October 7, 2019
Dear Friends of Visual Communications,
For the past two years, we have recognized the many people who have carried our core spirit of creating cross-cultural connections between peoples and generations. With your generosity, we have been able to evolve over the years to meet the changing needs of our extensive communities. Thanks to your passion for social and cultural change through the media arts, we are empowered to keep shifting the narrative.
As we enter the final weeks of 2019 in our 49th year, we are proud to continue HUMANS OF VC, a snapshot of VC champions who bring their unique experiences and artistic strengths to bridge divides and reflect the scope of our own diversity.
Take a moment to celebrate our communities, and consider making a 100% tax-deductible donation of $25 or more to support our work in the months and years ahead.
Not many organizations are able to say they've been around for 50 years, but we look forward to being able to say that next year. Save the date for our 50th anniversary celebration gala Past//Forward: 50 More on September 19, 2020. Click here to learn more.
Your continued support keeps us going.
With gratitude,
Francis Cullado, Executive Director
Visual Communications
Check back weekly as we continue to add new Humans!
*If you are on a mobile platform and cannot view the captions, please switch to landscape mode.
Amy Sanchez Arteaga & Misael Diaz (Cog•nate Collective), 2019 +Lab Artists in Residence
"We came to work with VC through an artist residency we did in partnership with Little Tokyo Service Center in the summer of 2019. As we did research for our residency project around cycles of displacement and histories of gentrification, it became apparent that VC was quite integral in holding memory for the resistance and struggle in the Little Tokyo community. It has been an important cultural home and incubator for so many artists, community members, and activists, and we are so humbled and honored to have had the opportunity to work within that lineage of production, which advocates for equity and solidarity through the arts."
Alan Kondo, VC Member
"Community filmmaking is something that I learned while working with Visual Communications. Back then, we wanted to give our API communities the skills and opportunity to tell their own stories about their history and culture. The fact that VC is still alive is an indication that VC was on the right track if it continues to have relevance after 50 years. Congratulations to the generations of filmmakers and media pros who have built a lasting legacy and an important voice."
So Yun Um, 2018 AWC Fellow/2016 LAAPFF Programmer/Filmmaker
"As an AAPI female director, I want to see AAPI films continue to grow so we can share the vast diaspora of the AAPI experience. That's why I love VC, because they've always been there to lend support to filmmakers like me whose stories are underrepresented, unseen, or unsupported. I'm excited to see our experiences finally shown in mass media and with VC's help, I know the sky's the limit."
Steven Wong, VC Member
"After watching CYCLO at the 1994 Los Angeles Asian Pacific Film Festival (a film that still visually resonates with me), I have been a regular attendee of the Festival ever since. Today I am a member, supporter, and advocate of VC. Not only is VC a community anchor where I've met lifelong friends, where my kids spent the early years of their life while their mom Leslie Ito was VC's Executive Director, and where my mom learned how to tell her story through video in Digital Histories, but VC is also an incubator for leadership, activism, talent, and overall greatness."
Patty Nagano (VC Member) & Steve Nagano (VC Member/Digital Histories Filmmaker)
"In the mid 1990s, Steve and I would drive from Long Beach to Little Tokyo, almost every other week, to work on VC's production STAND UP FOR JUSTICE: THE RALPH LAZO STORY with friends from NCRR. We even had a small part in the film and experienced what our families did when they were sent to the concentration camps. It was wonderful to complete the film and see it premiere in 2004. Today, as a resident of Little Tokyo, I have enjoyed seeing VC grow, collaborate, and bring value to our community by developing the voices of AAPI filmmakers and media artists." - Patty Nagano
"Over the years, I have worked on a number of VC's projects including SPEAK OUT FOR JUSTICE, which documents the Commission on Wartime Relocation and Internment of Civilians hearings in Los Angeles. This was very important to me as a Yonsei. After Patty and I retired, we moved to Little Tokyo and my involvement deepened as a Digital Histories filmmaker. As a minority media arts organization, VC plays a huge role in our community as a keeper of our experiences, a storyteller of our histories, and a definer of our culture. VC makes the invisible, visible, and as you can tell, means volumes to me." - Steve Nagano
Michelle Krusiec, VC Member/Actress
"When SAVING FACE premiered in 2004, they were so supportive but even prior to that, VC was there for me since the beginning. VC has helped so many artists grow because they are never out of reach with their guidance and unconditional support. They have a genuine pulse on what's happening in our community. I'm proud and grateful that VC belongs to us. It's a place to start and it's a place to return."
Jeff Man, 2011 LAAPFF Staff/2012 AWC Fellow/Filmmaker
"Back in 2011, VC offered me a box office gig for LAAPFF and I happily accepted right away. The year before, I stuffed all of my things into a car and drove across the country hoping to get a chance to work in the film industry; and the only job I could get was working at Best Buy. Every short film I've made the past 6 years has premiered at LAAPFF. For aspiring filmmakers, VC offers us a home and the opportunity to showcase our voice to a large audience. Thanks to VC, I'll never have to sell another Geek Squad protection plan ever again and I'm forever grateful for that."
Ann Kaneko, AWC Mentor/Filmmaker
"Making my first film and entering film festivals was daunting, but VC took my film (and many others, too!) and was always a welcoming place with good snacks. I have become more involved over the years as the artist mentor of AWC, where I have been a den mother and colleague to a talented and amazing group of younger filmmakers. I'm always happy to share my bountiful persimmon harvest every year with VC. And they welcomed my daughter, Ceiba, who stopped me from getting to an AWC meeting when she decided to be born!"
Walt Louie, VC Board Member
"My favorite memory of VC is ChiliVisions, because it was great to see such a large community gathering of folks, hanging out in the plaza, eating great chili, and then going into the Aratani Theatre to watch films. This was VC at its best. Because of this, my ultimate goal of opening Flash Cuts Editorial was to create a place where people can come together to create media, eat, and just hangout. It's important to support and give access to our storytellers, to preserve our culture's legacy, and to allow new generations to document their stories."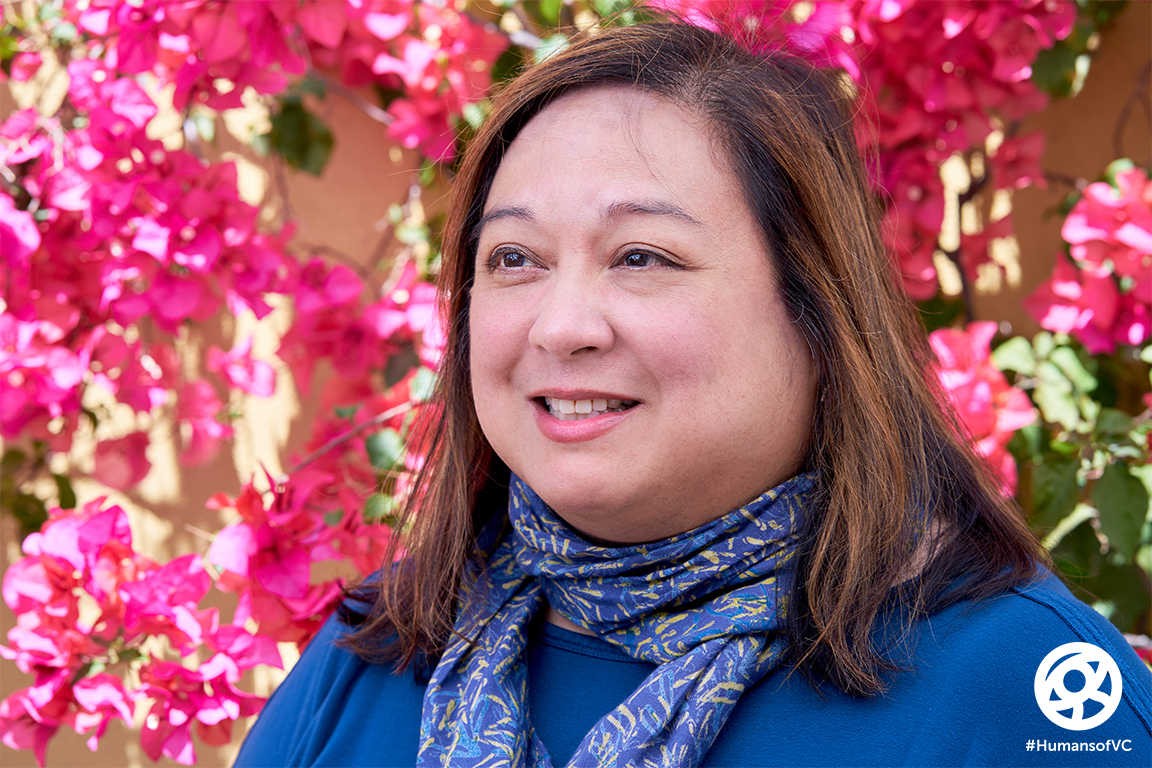 Vera DeVera, LAAPFF Programmer (1998-1999)/VC Board Member (2001-2007)
"When I was a LAAPFF Programmer, it was a pain in the butt to physically gather to watch the film entries on tape, but it was a lot of fun to experience the films with the fellow programmers. VC has been a homecoming for a lot of filmmakers over the years. It's been quite a journey to see VC evolve over the years and all the while remain true to its mission to showcase AAPI stories that matter and connect, of the community, by the community."
Mike Murase, VC Donor/Co-Founder of Gidra Newspaper
"VC was created by people, mostly in their teens and early twenties, who were deeply rooted in the community and in the movement for social change. In 1983, I was asked to work on a VC project, Little Tokyo: One Hundred Years in Pictures. I researched, wrote and studied over 65,000 images to select for the book. While many other entities created in the 60s and 70s no longer exist, VC was an instrument in the struggle for justice and has stood the test of time and remains a solid, relevant organization."
Arthur Dong, VC Member/Filmmaker
"I moved to Los Angeles in 1984 and one of my first exploratory stops was VC. Linda Mabalot welcomed me with open arms (literally) and even offered me a place to stay! Since its inception, VC has connected artists with audiences who probe the social, political, cultural, and economic shifts of our times. By advancing AAPI voices and stories, including those from the LGBTQ community, VC empowers media producers to create and to challenge the status quo."
June Kaewsith (Jumakae), LAAPFF Programmer (2015-2017)/Artist
"I discovered VC when I was a baby poet at Tuesday Night Cafe and a college student at CSULB. In 2015, I was asked to curate the LAAPFF youth media program "From Vision to Reel." It was such an empowering experience to sift through the narratives of our next generation, connect these stories to local community resources, and recognize that we don't need to wait for Hollywood to write roles for us; we are creating them for ourselves!"
Andrew Ahn, 2017 LAAPFF Juror/Filmmaker
"I am a filmmaker in dialogue with society and culture. This is why I'm so thankful for Visual Communications: for always understanding the multitude of AAPI stories and the key function that community plays in the art making process. My very first short film ANDY screened at the Los Angeles Asian Pacific Film Festival in 2011. Their ongoing support feeds into my work, helping me find truth, honesty, and nuance; and gives me the confidence and motivation to continue making films about my Asian American identity."
Jonathon Laluces, VC Intern
"I am always glued to my phone so my Dad connected with VC's Executive Director Francis about an internship at VC. From creating the #LAAPFF2018 pins (which look awesome by the way!), to figuring out how to use ancient phone systems, I learned a variety of office and social skills that I can apply anywhere. VC has really grown on me. It's more than an internship; it's a closely knit, supportive community of do-ers, fueled by passion for film and filmmaking."
Angela Park, 2013 AWC Fellow/LAAPFF Staff (2011-2014)
"My first job after moving to Los Angeles was for VC's LA Asian Pacific Film Festival. By supporting artists and connecting communities through film, VC garners a common history from our disparate pasts. I continue to tell new LA transplants about how VC welcomed me into a global film community with cultural, racial, and gender awareness."
Quyên Nguyen-Le, 2016 AWC Fellow/Filmmaker
"As a child of refugees, there was a barrier of both language and war trauma between me and my parents. That gap has lessened as I got older, because my films about queer Vietnamese Americans are rooted in my own experiences and visual images have a great power to move people into action. I'm grateful that VC was the first place that nurtured in me a sense of community and belonging as an Asian American filmmaker."
Caylee So, Filmmaker/Co-Founder of Cambodia Town Film Festival
"Filmmaking is a great big canvas to play with. You build your world one piece at a time, and every person who is part of that process is important in the shaping of the final work. Right now, I want to see more AAPI films find a mainstream audience. By committing to elevating our own visibility, the industry will have no choice but to step outside of the "formula" and take some chances on different stories and filmmaking voices. As the Co-Founder of Cambodia Town Film Festival, I've often sought out VC's help in finding ways to build community engagement between all communities. As a director of films, I've often looked to VC to find an audience for my films. I love having VC as a partner in the fight for more representation in our films."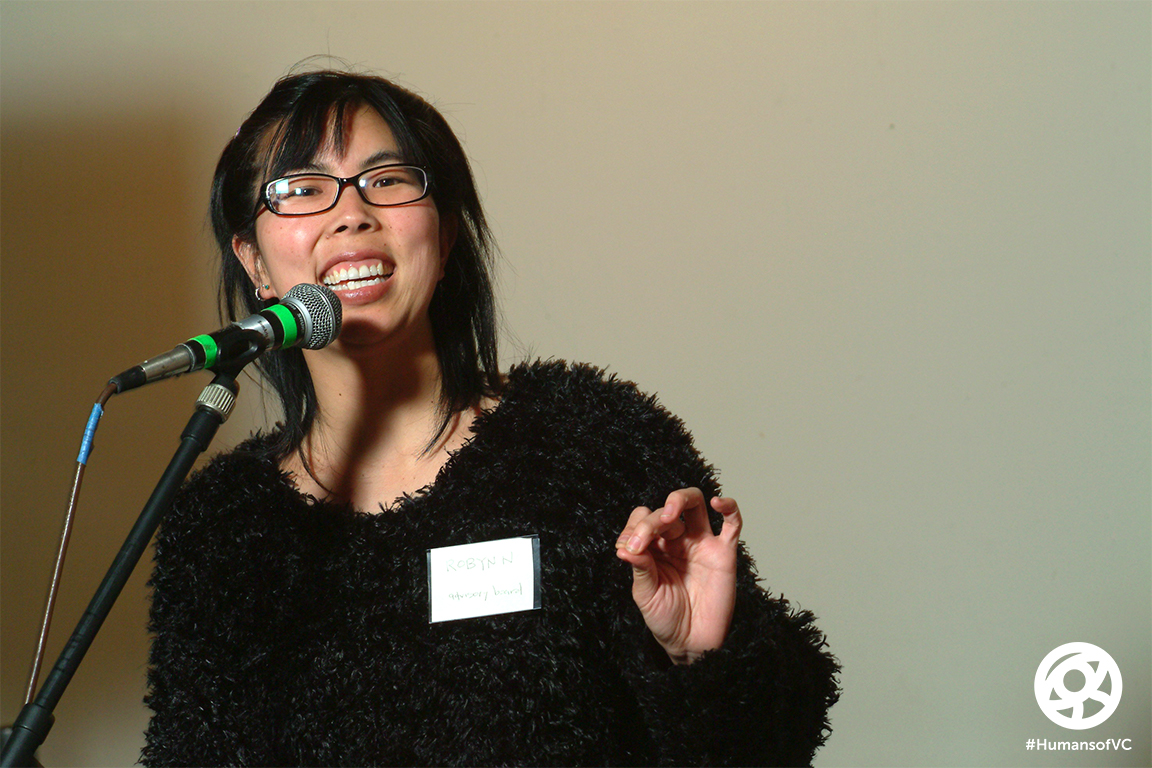 Robynn Takayama, 1994 Getty Intern
"VC is my first cultural home. A whole new world opened up to me where I saw amazing cultural workers making a living while giving back to community and/or directly empowering AAPI communities through their art. I have continued my path in media making and work in arts philanthropy, keeping VC's values as my north star."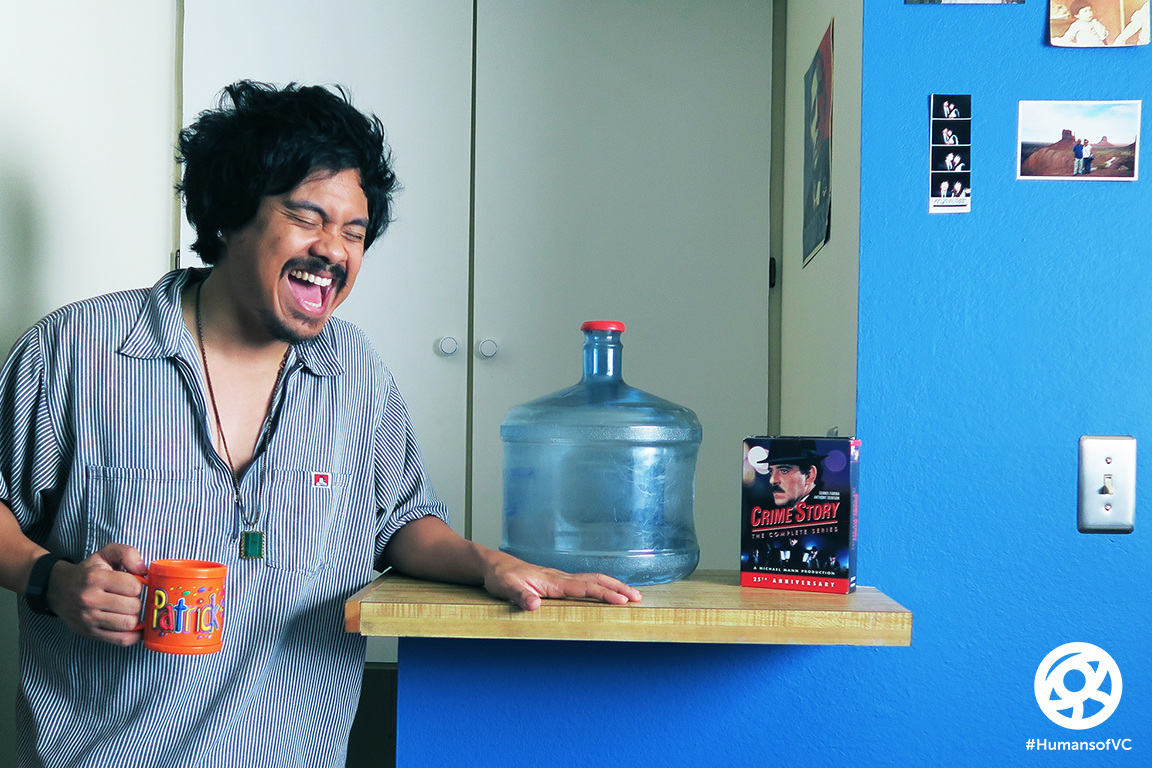 Patrick Epino, 2005 AWC Fellow/Filmmaker
"I discovered VC when I screened my short film SPUNK at the 2004 LAAPFF. After meeting and spending time with the staff, I was, like, "Dang, these are some cool folks." VC has always been a creative partner, by supporting work I did through National Film Society and promoting films I've been fortunate to be a part of, such as AWESOME ASIAN BAD GUYS and more recently HP Mendoza's BITTER MELON. They're always willing to ride the wave of new work and have been a constant foundation for so much that I've done."
Francisco Sanchez, LAAPFF Staff/Publicist
"When I think of VC, the word is dedication. I'm proud to promote one of the best festivals in Los Angeles with great people who are dedicated to the AAPI community. By offering support through mentoring programs and the LA Asian Pacific Film Festival, VC introduces necessary storytellers to a city that's always searching for fresh talent."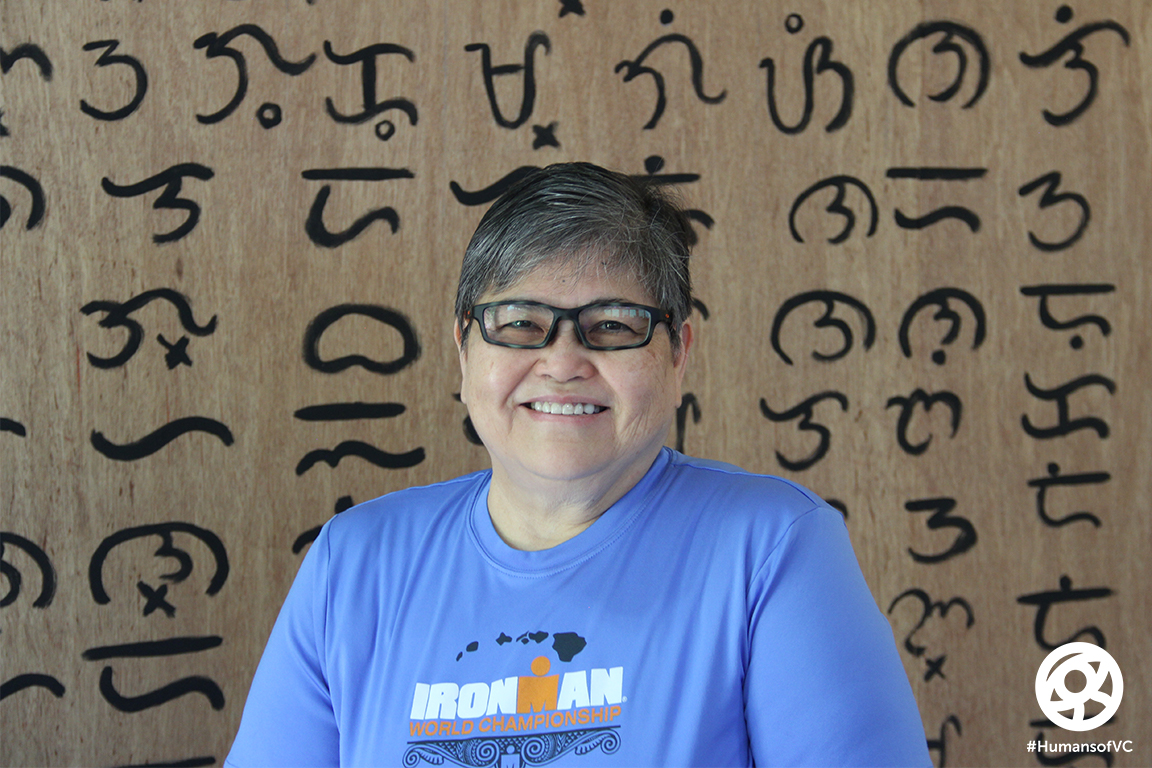 Prosy Delacruz, VC Member
"I enjoy learning about different cultures vicariously through film, which is why I keep coming back to VC, enticed by LAAPFF's programming that offers a window of current, relevant, social issues confronting immigrants. VC is a cornerstone of our AAPI artistic growth and a rich trove of digital histories in community building."
Daryn Wakasa, VC Member/Filmmaker
"Part of my family stems from the Japanese American Crenshaw community, so I've always known about VC through extended family and the Yellow Brotherhood. As a Japanese American haunted by the concentration camps, I am inspired by VC's ongoing work to reconcile the past through present lens. After working on Tad Nakamura's PILGRIMAGE, I've taken an active role in the VC family by collaborating with them as I apply my commercial career into community work. I'm honored to follow in their footsteps of strengthening community through media and storytelling."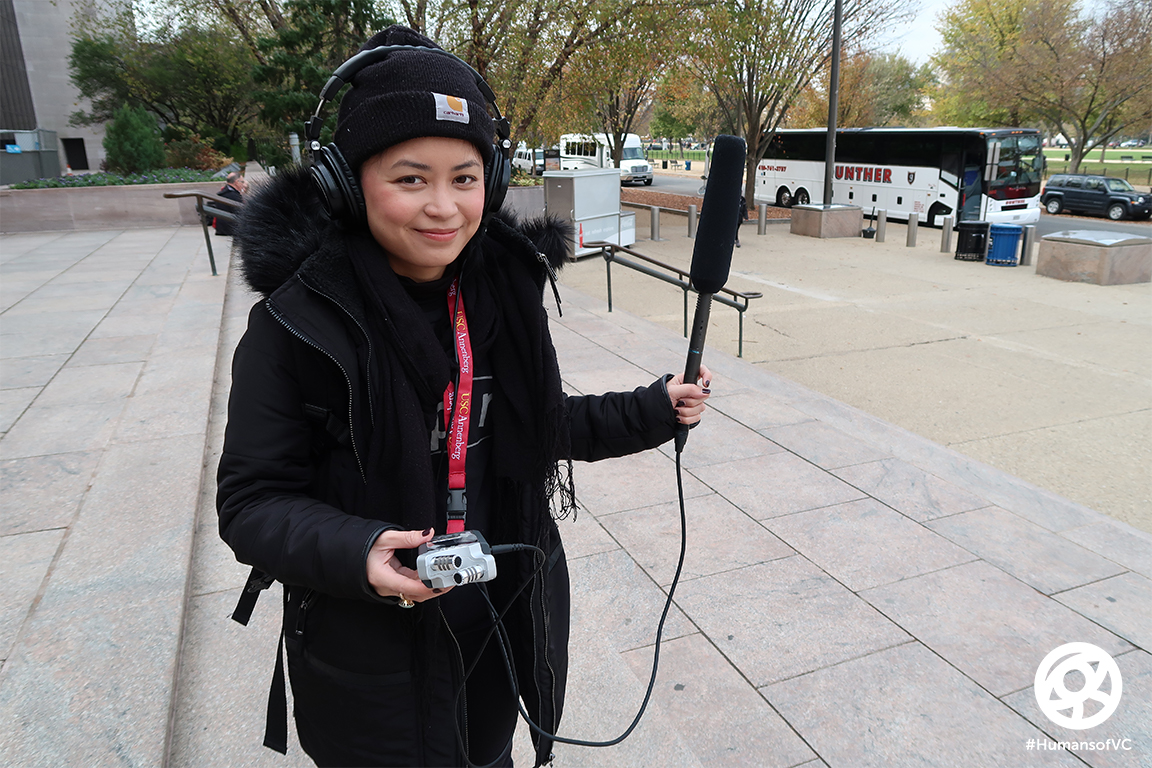 Paola Mardo, 2010 Getty Intern/Host of LongDistanceRadio
"I learned about VC through an Asian American film production class at UC Santa Barbara. When I got my internship with VC, I couldn't have been more excited — the drive was brutal but on the plus side, that's how I started listening to public radio. A few years ago, I hosted a live event at VC's C3: Conference for Creative Content for my first podcast F This Weekly. This year, I recorded interviews at the festival for Long Distance, a new narrative podcast I'm producing about life in the Filipino diaspora. VC is an important space for gathering storytellers. I'm glad to have gotten to know the people at VC over the years and I hope to continue to be a part of it for years to come."
Rhianne Paz Bergado, 2006 AWC Fellow
"VC became a part of my life through their ties to the Tuesday Night Cafe community, where I made lifelong friends who encouraged me to submit films to LAAPFF. VC has always supported my perspective and my stories that explore themes of subculture, isolation and other-ness. It's important to find safe spaces as first generation and LGBT, and to have a channel of expression as a storyteller and writer."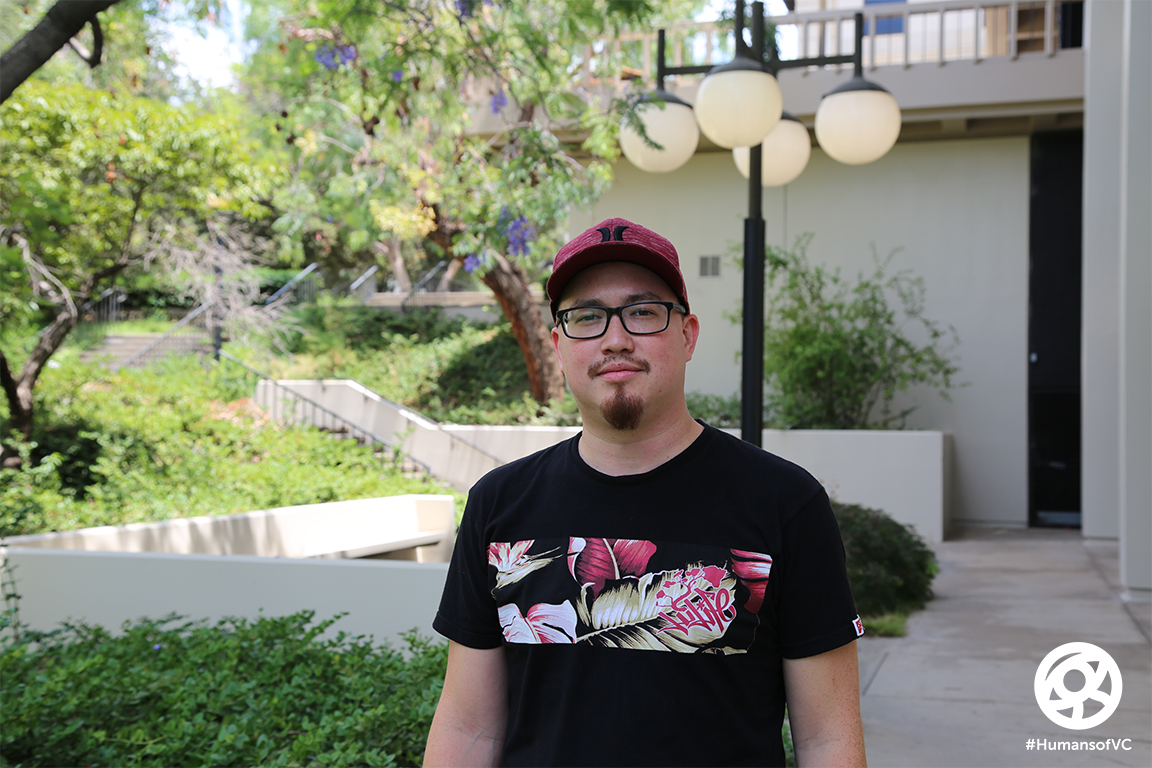 Weldon Wong Powers, 2015 AWC Fellow/Filmmaker
"I discovered VC after moving to Los Angeles from Atlanta 7 years ago. I wasn't necessarily looking for an AAPI connection, but have realized how important this community is for my artistic development. VC has a mission to promote diversity not only on a larger scale in the industry, but also within the AAPI community. They champion individuals that bring unique qualities to broaden and redefine what the AAPI experience is, and has as pushed me to reinforce my perspective on life."
Celine Parreñas Shimizu, Filmmaker
"My friends Ernesto Foronda, Pancho Gonzalez, and I were inspired by VC to empower our communities through conscious and ethical media making, so with VC's help we founded the Filipin@ American filmmakers group SINEGANG to program events and help each other in productions. VC has supported me throughout my career as a filmmaker and scholar, from my second book STRAITJACKET SEXUALITIES to my new film and book (both forthcoming in 2019/20!). VC is an ever-evolving organization devoted to nurturing AAPI filmmaking on all fronts, including film scholarship! We make our best work with their unflagging support."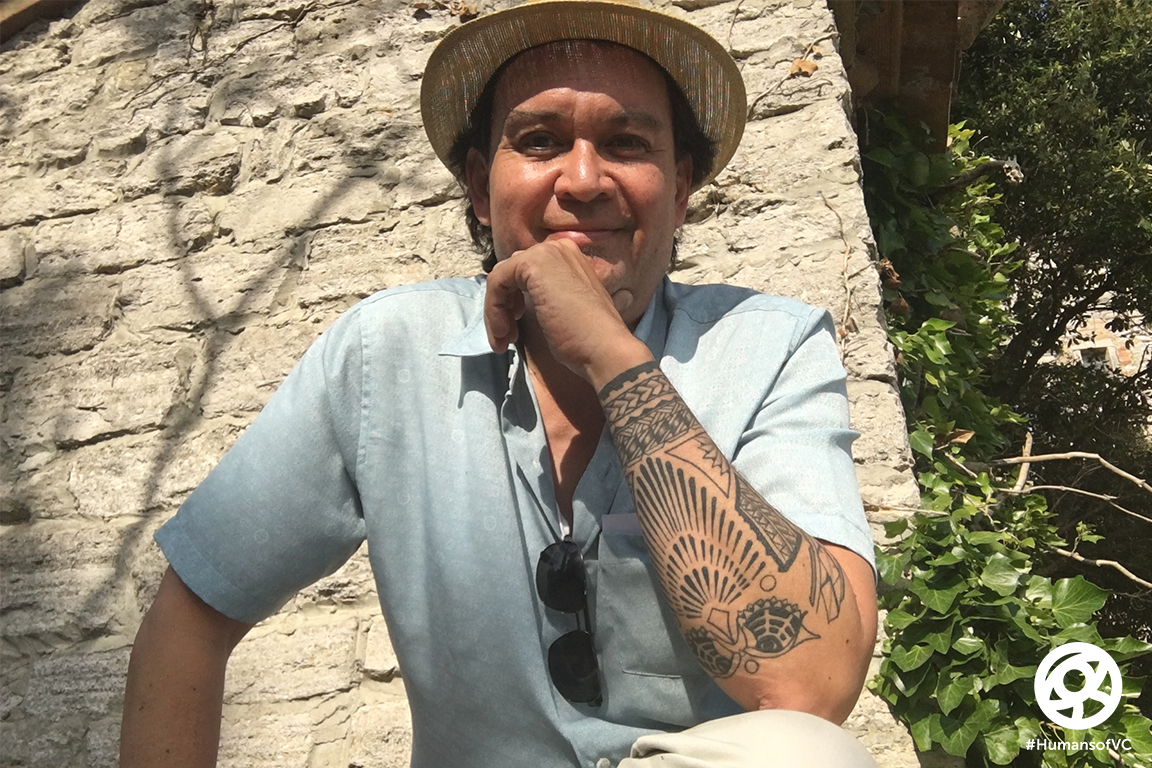 Jim Herr, VC Member
"As a mixed-race kid, I grew up in a place where there weren't many people of color. Coming to Los Angeles opened my eyes to the need for people to connect to the community, particularly to drive issues around representation and discrimination. I believe that the arts holds the keys to social justice and social change. VC is at the center of that for our community and keeps evolving to develop strong voices that tell our stories and advocate for change. I did a slam video one year for VC and its metaphor still sticks: VC is like coming HOME."
Erin Li, 2011 AWC Fellow/Filmmaker
"VC has been backing and fighting tirelessly for films about, by, and starring AAPIs since 1970. They were the first organization to support and champion me as a filmmaker. VC Supporter Elizabeth Sung starred in my AWC film and became one of my biggest mentors in the industry. VC and Elizabeth believed in me and my work, and that's truly empowering, especially when you're starting out."
Elizabeth Sung, VC Member/Filmmaker/Actress
"As a VC member for about 23 years now, I have not only screened my award-winning short films, but have also continued to lend my support to the annual selected candidates from the Armed with a Camera program. A few of them are now on their way to manifesting their dream careers, which I am thrilled about. VC continues to offer an important platform by being a stable and invaluable resource for them. VC is an important organization that all AAPI filmmakers should know about and be a part of."
Photo taken at Peter Lai's Japanese Village
Albert Aubin, VC Member
"Because VC is so immersed in the community, I had to become a VC supporter. It was a pleasure to see Elizabeth Sung in many VC films and be an impetus to support the organization. One of my favorite programs is Digital Histories, because it's essential to hear the stories of elders told by themselves, as active senior filmmakers. Creating and sharing AAPI films by intergenerational filmmakers, through all stages of their careers, makes VC truly unique."
Norbert Shieh, 2015 AWC Fellow/Filmmaker
"My relationship with VC began as a patron of LAAPFF, one of the few venues solely focused in programming AAPI films in the United States. I support VC because their public programming celebrates cultural differences and helps foster community. AAPIs often get lumped together even though we have many distinct cultures. VC has motivated me to make films with purpose—to start conversations that recognize and reflect our diversity. "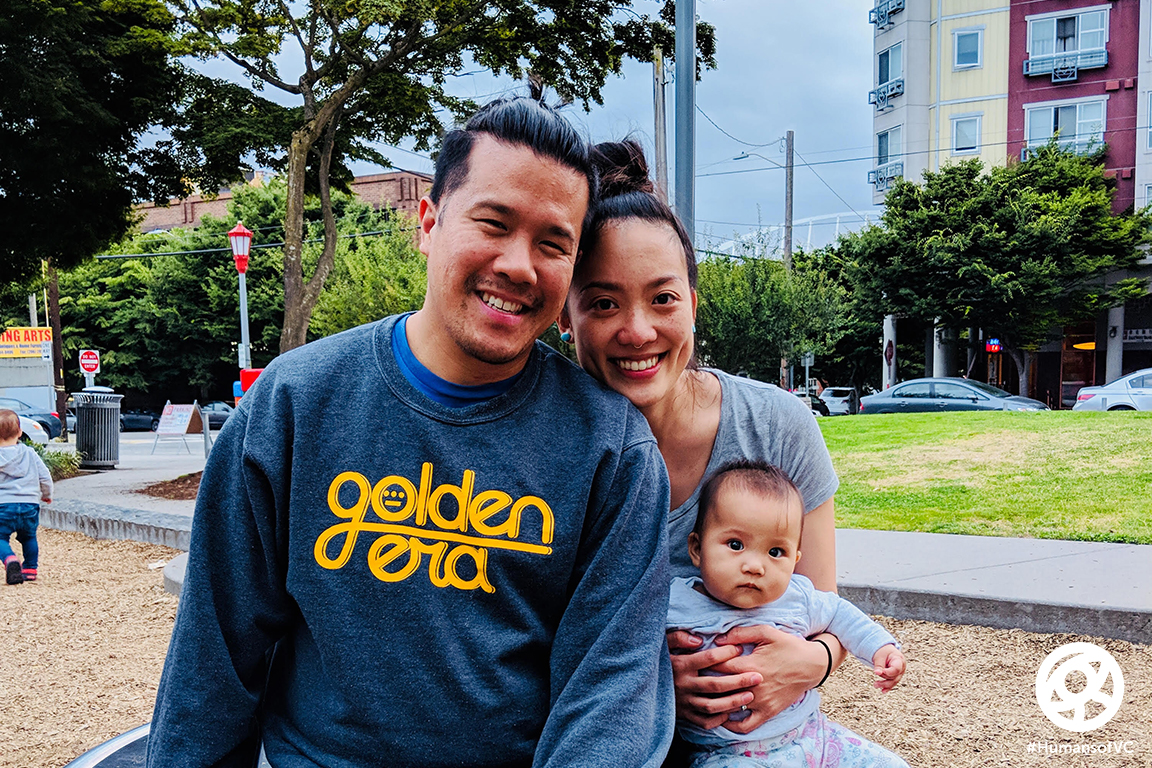 Christopher Woon, 2004 AWC Fellow/Filmmaker
"I was introduced to VC through UCLA's Asian American Studies leadership class. My first task was to clean out the storage room! I could always rely on any of the VC moms (Amy Kato, Cindy Oda, Susan Soohoo, and Leslie Ito) for some sage advice. With their encouragement I applied and was accepted into AWC and made my first film! VC was the place where I was able to imagine myself as a filmmaker for the first time. I premiered my first full length documentary AMONG B-BOYS at the 2011 LAAPFF and won the Audience Award."
Tulica Singh, 2016 AWC Fellow
"As a filmmaker who welcomes improvisation, it's electric when ideas pop in from different people on set and we see how something can take shape before your eyes. VC has that same sense of community and safety in sharing -- egos are left at the door. VC welcomed me with open arms to a very supportive, kind, and creative space, and I have always felt that VC cares that I am seen."
Mark Villegas, 2008 AWC Fellow
"VC serves as a intergenerational community-building resource for cultural transformation. When I was an AWC Fellow, I made a film about legendary hip hop artist DJ Icy Ice because he represented a middle-ground generation who bridged Filipino American DJ culture from the late-1970s to 1990s. Now, as a college professor, I incorporate projects that carry VC's community based ethos by encouraging students to connect with communities and document their family histories and migration stories."
Alvin Nuval, LAAPFF Staff (2016-2017)
"While working at VC, I loved being surrounded by creative people and experiencing the rush of LAAPFF. Seeing folks translate their passions onto the screen inspires me to try and tell my own stories in the future. Whether you are in front of the camera, behind the scenes, or sitting in the audience, the simple act of your existence contributes to the larger interconnected narrative that VC helps us write, share, and discover."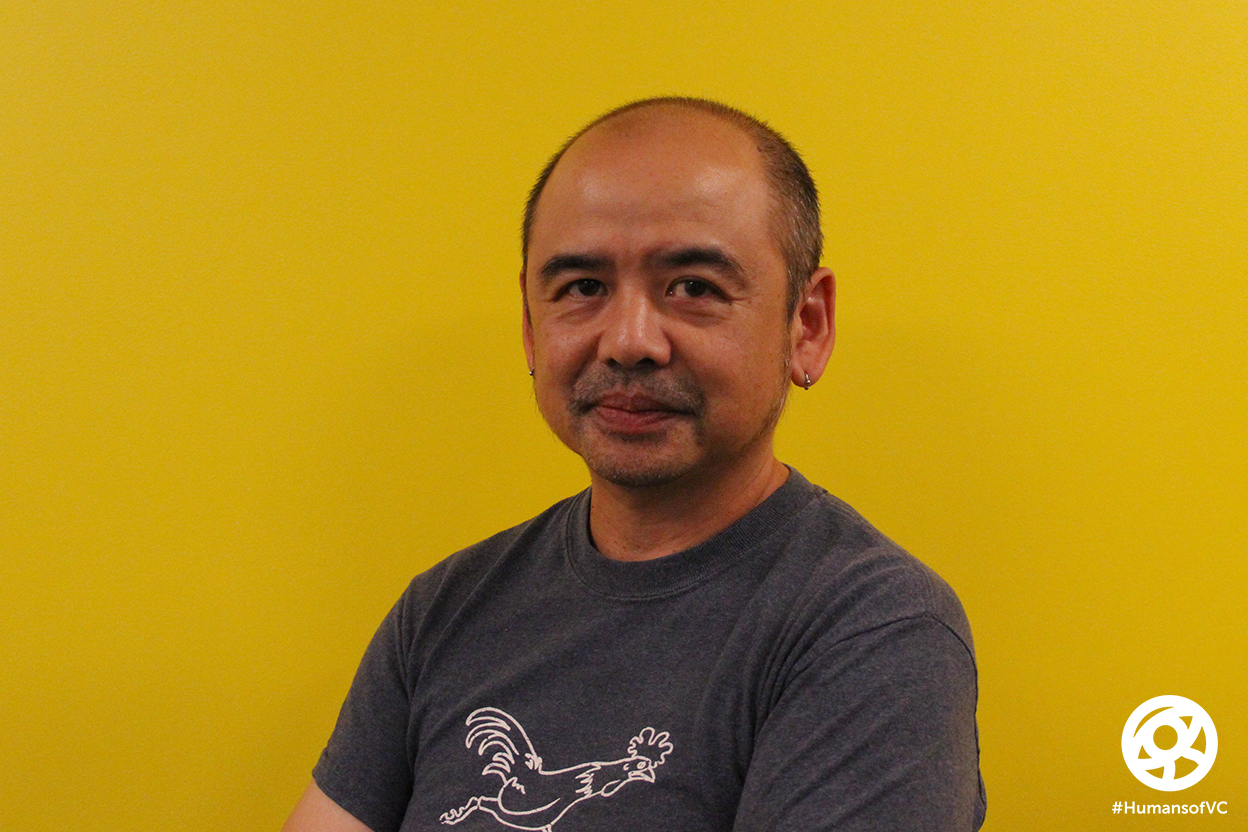 Michael Premsrirat, 1993 Getty Intern
"VC has kept me connected to the AAPI media arts community and taught me new ways of seeing things. I learned that you can be an artist and an activist; we don't have to choose between message and aesthetics. My favorite memory was helping VC promote their documentary MACEO: DEMON DRUMMER FROM EAST LA. VC supported and continues to support filmmakers who make entertaining documentaries and narrative films with strong messages."
Junko Goda, LAAPFF Staff (2008, 2014-2015)
"VC is my Film Festival family. I learned how to organize and work REALLY hard. Flash forward 10 years later and I still see the same friends come back to volunteer. When people take their precious time out to volunteer for LAAPFF year after year, you know there's something special. I feel I have ownership of a teeny tiny piece of what is Visual Communications."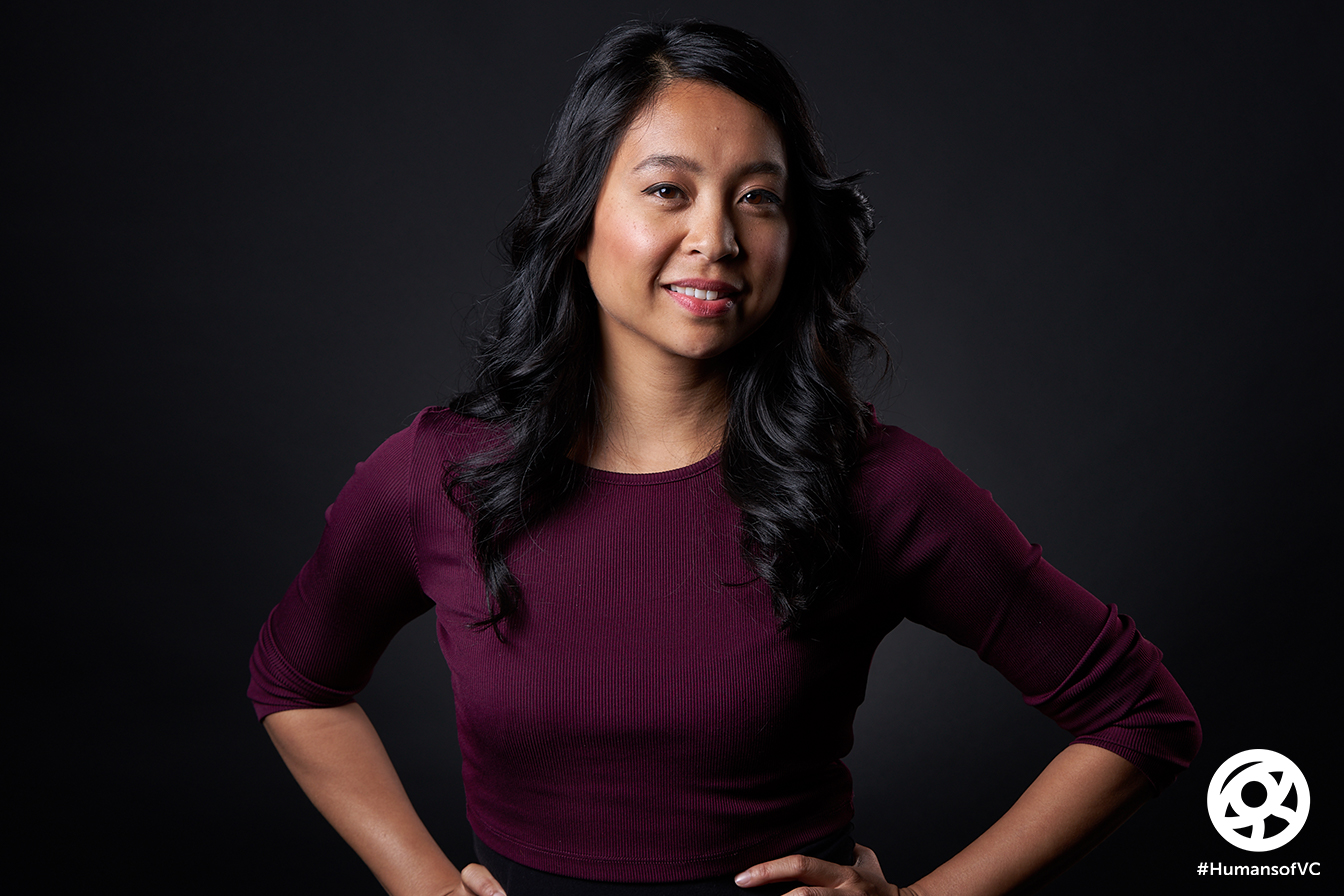 Maritte Go, 2013 AWC Fellow/Filmmaker
"In 2013, I had heard through the grapevine about a wonderful program called Armed with a Camera. VC gives filmmakers like me a stage to tell our stories with the characters we want. VC has done so much for my career. I owe them for seeing potential in my little short film that was selected as a finalist for the HBO APA Visionaries Short Film Competition. They helped validate that my voice matters, representation is possible, and that there is a promising path for me."
Niko Dulay, VC Staff (2014-2016)
"I found out about VC when I decided to learn more about my Filipino American identity, and began working with the organization. Working for VC helped me learn more about myself and my community, and I'm sure many other people feel the same way about VC. Now I volunteer for VC as much as I can, because it's a way for me to pay forward everything the organization has done for me personally and professionally."
Roxy Shih, 2011 AWC Fellow
"I take great inspiration from VC on how to organize the Taiwanese American Film Festival. We had staff from VC that helped in the first year to make sure we were doing things right. VC has taught us that at the heart of it, we are all filmmakers trying to help and support each other. There is no better feeling than seeing a seed of an idea manifest into something real...filmmaking is an artistic medium that proves that we are greater than the sum of our parts. If one of us wins, we all win."
Gerlie Collado, VC Member
"Not only does VC continue to train more AAPI filmmakers, but it also provides opportunities for film viewers to see themselves on the big screen. We've been demanding diverse, socioeconomic, and ethnic representation in mass media—VC's advocacy for this has become even more important. I also commend VC for taking an active role in ensuring the preservation of Little Tokyo's history and its significance to the L.A. landscape, while continuing to welcome new faces to the neighborhood."
Raymond C. Lai, 2014 AWC Fellow
"For me, being a filmmaker is first and foremost about being a storyteller. I assumed I would be a fully formed artist post-film school, but that was not the case. VC has helped me refine my voice and lens through their Project Catalyst and AWC programs, and I am now (finally) on the verge of beginning production on a short proof of concept for my Project Catalyst script. As an avowed believer and participant of VC's message and movement, I continue to be grateful for VC each and every day."
Michelle Roque, LAAPFF Staff
"Three years ago I was recruited to work on VC's Los Angeles Asian Pacific Film Festival Program Guide—and I've been doing designing for them ever since. As a creative, I know first hand how Asians are underrepresented in American popular culture. VC gives a voice to our community and helps propel our stories from one-line stereotypes to multi-dimensional characters in mainstream media. VC has been fighting that fight for almost 50 years and I am honored to help showcase new narratives through graphic design."
Anisa Khanmohamed, 2015 Getty Intern
"VC emerged from a context of intense racial conflict in Los Angeles. It's essential to support organizations like VC, to challenge stereotypes, fight discrimination, and to uplift the stories of underrepresented communities. VC is just as important now as it was when first founded in 1970 because the playing field has not been leveled."
Rajendra Thakurathi, 2018 AWC Fellow
"When I was in film school, I was one of the few South Asian filmmakers, and when I graduated, I realized this number was even lower. VC connected me to creatives of my own background. I still reach out to my fellow Fellows for guidance and advice. It feels good to collaborate and make our own content. My creative community empowers me to give underrepresented voices a platform to be seen and heard."
Lailanie Gadia, VC Member/2018 LAAPFF Staff
"I grew up on the island of Guam, which I consider my first home. Having been in Los Angeles for the past 11 years, VC is one of the places where I feel at home. Thanks to Michelle Ko (my mentor from Loyola Marymount University), I've been a volunteer since 2012. I was the Social Media Coordinator for the 2018 Los Angeles Asian Pacific Film Festival, one of the best experiences to date giving back to the AAPI community. VC is a place where my story matters, where I can find stories that represent our diverse community, and where I can connect with people who share the desire to bring our community's stories to life."
Jodi Long, VC Board Member/Actress
"After discovering how VC was such a great resource to emerging filmmakers, I became passionate about helping their mission by becoming a Board Member. Now as President of the Board in VC's 48th year, I am committed to Visual Communications becoming a destination not only to filmmakers but also to the entertainment industry, and would like to help forge the next 50 years. I like to think of VC as a home for filmmakers, directors, actors, writers, producers, editors, cinematographers, to create, collaborate, inspire and be inspired in their quest to shift the narrative for AAPIs. If we don't tell our stories, who will?"
The Nakamura Family
"VC has been an important part of my life since the day I was born! I probably wouldn't have become a filmmaker if I didn't grow up watching so many Asian Americans making films through VC. From my first public film screening at the 2001 ChiliVisions to now, VC has played an integral part of in my development as an artist and community member." - Tad Nakamura, Filmmaker
"The formation of VC was literally a life-changing event. It was a place where I could practice my craft, find my voice, and belong to a community." - Robert Nakamura, VC Founder
"VC has been a family affair since 1970, when Bob created a photo exhibit on camp and called it a production of "Visual Communications." Ten years later, our son Tad was born and "co-starred" in HITO HATA when he was a week old. Today, we continue to be part of the expanded VC family, which is carrying on under the capable stewardship of Francis Cullado." - Karen Ishizuka, Writer/Filmmaker
Eddie Wong, VC Founder
"I became one of the founders of VC by working on photo documentation projects and writing proposals that eventually allowed us to make our first documentary films. In the early days, VC was almost strictly a production company that functioned as a collaboration. Being in VC was like being in a free-floating band or theater group– we supported each other's projects and developed very deep friendships that have lasted to the present. Since then, VC has grown tremendously and become a media arts center that is involved in presenting APA film/video work, production training, and educational projects. It's a testament to all who have worked at VC that it continued for nearly 50 years."
Duane Kubo, VC Founder
"I came to VC to learn photography from Bob Nakamura and Alan Ohashi. For me, VC has been a place to develop skills and a sense of community. VC continues to make a necessary impact by representing Asian American communities with authentic portrayals."
Doug Aihara, VC Board Member
"I've been involved with VC pretty much from the beginning, since the 70s when VC Founder Bob Nakamura first rented a modest space above the GIDRA newspaper offices on Jefferson Blvd. I was then talked into joining the Board of Directors in 1983, and I've been serving ever since. The work produced by VC these 40+ years has been great, but it has been the people and close relationships developed over the years that have really kept me involved. Everyone has made personal sacrifices to keep VC up and running. Long live VC!"
Sean Miura, 2009 VC Intern/Producer at Tuesday Night Cafe
"I started out at VC as a summer intern in 2009, which involved archiving photos and shaving another intern's hair off, but the biggest impact was my proximity to Tuesday Night Cafe, where I got to volunteer and eventually became the Producer/Curator. To me, VC demonstrates a clear understanding that our strongest community asset is and will always be our history. To innovate without context is to float aimlessly to the sky -- we can only meet our targets if we know our past trajectories. As both an irreplaceable archive and a dynamic center of story-based movement, VC is a community treasure that I am grateful and privileged to call family."
Tanuj Chopra, Filmmaker
"VC is the first place I ever submitted a film to, the first place that ever screened my work, the first place that put my film in the DGA theatre on Sunset, the first place that centered my narrative and encouraged me to continue down this path as a filmmaker. VC is mi familia and I ride or die with them."
Eseel Borlasa & Tracy Nguyen-Chung, LAAPFF Staff/After Bruce Partners
"I was drawn to VC because of its commitment to preserving our stories; once I spent more time with the organization, I saw so much more of it—it encouraged a more diverse and inclusive landscape for the Asian American experience. It's a lot of hard work, alongside family, that believe in a lot of the same things that I believe in. " - Eseel Borlasa
"I hadn't really immersed myself into VC until one morning during festival week. Chris Woon was hosting a reception for his documentary, AMONG B-BOYS. Music was blaring and breakdancers were ciphering. Then, Eseel and I had a top rock battle and became fast friends. That's when the heart and spirit of VC really became clear to me." - Tracy Nguyen-Chung
Maciek Kolodziejczak, VC Donor
"Being an immigrant from Poland, I have been more familiar with European films, so VC programming and LAAPFF opened up a whole new world for me. While all local LA international film festivals provide an important platform for creative storytellers, VC is uniquely organized to also provide support in developing local talent through workshops and mentoring."
Zahra Noorbakhsh & Tanzila Ahmed, Co-Hosts of #GoodMuslimBadMuslim
"I found VC through my cohost, Taz, and the Potluck Collective. As a new LA transplant and an Iranian American, VC gave me community. Iranian Americans are sometimes left out of stories as they relate to the Asian Diaspora. And, as a woman who identifies as queer, VC connects me to a network of support in creative collaborators, mischief-makers, and inter/intracommunity efforts to re-center and reclaim our stories as API." - Zahra Noorbakhsh, Comedian
"I discovered VC when I was an undergrad at USC and all of the Asian American film events were all somehow connected with Visual Communications. Having lived and been an activist in the LA Asian American community means that everything was always somehow connected to VC. It is a cornerstone to all kinds of creative culture that is at it's core, telling the much needed counternarratives of the Asian American community. If culture shifting is what is needed to move hearts and minds - then VC is the safe space where we get to participate in that radical play." - Tanzila Ahmed, Activist
Reggie Ford, Animator
"VC provides PoC artists the means to be heard. I enjoyed collaborating with the VC team on an interactive exhibit for this year's LAAPFF to highlight a forgotten past and educate people on the brief history of Bronzeville in LA's Little Tokyo."
Tammy Borrero, LAAPFF Staff
"It has never been easy to forge the way for Asian Americans in media. VC has played a key, yet often understated role in this through decades of investment from the founders, to the EDs, to the staff and programs and hardcore volunteers that put in the work, the time, and resources to support one another. As the Special Events Manager for LAAPFF for 5 years, I love the people, I love what I am doing, and I love the purpose for which we all team together. But it is hard work. At the end of the day, it's the passion that fuels VC and a deep love for the community. You see it in each person you work with. It is humbling and an honor to be a part of the VC family."
Sumiko Braun, 2016 AWC Fellow/Filmmaker
"I knew about VC before I knew filmmaking was my passion. I had to grow comfortable with myself as an Asian American artist and storyteller which I believe is the result of being mixed race and a single mother and having experiences that don't feel central to the 'Asian American narrative.' But with VC I have always felt supported and embraced as an emerging filmmaker. VC is an incredible resource and platform that is only as strong as the community support and backing it has received over the decades and continues to receive today."
Duc Nguyen, Filmmaker
"VC was the fiscal sponsor for my first documentary, BOLINAO 52, in 2005. VC is a nest for independent filmmakers like me. In this media industry, things come and go, but VC is the old reliable one when you need a place to lean on. It's a place where we can nurture our ideas, rejuvenate after an enduring filmmaking journey, and gather to celebrate our Asian American heritage."
Kristin Fukushima, LTCC Managing Director
"VC represents and contributes to a major part of the identity of Little Tokyo that goes beyond the nikkei community, making it a place that is a home and hub for Asian American arts and culture. Rather than let mainstream media dictate the image of people of color, VC helps our communities create own stories, narratives, and films. On a personal note, I've grown to appreciate VC after working with them and First Street North stakeholders, fighting to make sure this block is developed for and by our community in a way that anchors and strengthens Little Tokyo. #MyFSN"
Maya Santos, Filmmaker
"Whether it's through a platform, collaboration, connections, resources, or just encouraging words, I've always felt that VC had my back as an artist and was supportive even if my idea seemed out of reach. Now as Creative Director of Form follows Function, VC's support remains rooted in that spirit and our relationship has expanded to partnership. I'll forever be grateful for their support for it is rare, special, and so needed for every creative out there."
Mark Jue, VC Volunteer
"When I was growing up in the Bay Area, my family would gather around the TV when programs like FLOWER DRUM SONG came on. There were so few images of Asian Americans in movies and TV. Our stories were being distorted and not being told. We didn't have a voice. When I moved to LA, I got to know VC's ED Linda Mabalot and VC staff by bartending and volunteering at events. Things have really changed over the years, but we still have a long way to go."
Amy Hill, VC Donor/Actress
"VC has continued to be an absolutely essential part of the AAPI film community. I've emceed several VC festivals, created some video shorts, been on panels, and supported in any way I could. VC means that we have someone watching our backs to raise us up, to advocate for us, and to give our stories a place in the fabric of this world."
Kirby Penafiel, LAAPFF Staff
"I discovered VC when I first volunteered for LAAPFF2011 at the end of my film school tenure. My relationship with VC has continued through my participation with LAAPFF; I started started out as a volunteer, to Box Office Associate, to Shorts Programmer, to Media Production Coordinator, and I'm currently the most senior member of Shorts Programming Committee. VC to me is the LA Asian American community of artists, organizers, and film lovers. As an Angeleno, preserving VC's sense of community for future generations is something I plan to help with for as long as I can."
Marie Jamora, Filmmaker
"VC has been extremely supportive of my career, and my films have screened at LAAPFF since 2013. I have also been organizing a private film screening/Q&A night at the VC office space called Cinema Sala, where I share works by Filipino and Fil-Am filmmakers and musicians. I feel like VC is an extension of my family -- like the coolest and most supportive relatives EVER. They care about the community and keep building it upwards and forward while honoring the people who paved the way before them."
Charlize Toratani - 2017 LAAPFF Juror/Filmmaker
"When I first moved to LA six years ago, I looked for film festivals to support and discovered LAAPFF. I was a juror for LAAPFF this year and it was a neat experience to shine a spotlight on filmmakers of color who have worked so hard. As a juror, I want to see more AAPI films involving female points of view, non-stereotyped LGBT characters, and more non-Asian PoC characters."
Steven Lam, VC Volunteer/Photographer
"I discovered VC when I first moved to Los Angeles from Tennessee over 8 years ago. It was my first time being part of an Asian American group away from college, and made me feel like I belonged somewhere again. I love VC, and they make me feel like having a family in LA, where we can struggle to do what we love and hold on to our passions."
Marvin Yueh, Podcast Producer/Associate Director at Kollaboration
"VC means community, voices, representation, and family; not blood related, but like the close friends your parents make you call cousin, auntie, or uncle. In addition to our frequent partnerships as part of Kollaboration, VC has been generous enough to offer one of their editing rooms for me to convert into a Podcast Studio for the Potluck Podcast Collective, an Asian American podcasting group that I help manage."
Harry Du Young - VC Volunteer
"I discovered Visual Communications during the 1970s when I did my research paper on Asians in the media at UCSB. It wasn't until the 1990s when I began volunteering. In 2007, Leslie Ito, former Executive Director of VC presented me an award for Best Volunteer. I travel a lot to China and Asia, but I always find a way to return for the annual LA Asian Pacific Film Festival. VC continues to encourage and inspire my pursuits in front of and behind the camera in the film industry."
Micki Davis, 2012 AWC Fellow/2016 LAAPFF Staff/Artist
"When you talk about community, you are speaking in future terms– VC invested in me as an Armed with a Camera fellow, and I'm going to reciprocate and invest to their future and those they continue to support. I joined the team for the 32nd LAAPFF and felt like things were coming full circle. That's what I find so endearing about VC – artists coming together to support other artists under the collective vision of elevating Asian and Pacific voices."
Kim Zarate, 2012 VC Intern/Exhibitions Coordinator at CAM
"Since my internship with VC in 2012, my relationship to VC has really come full circle – as I was researching for an exhibit at my workplace (Chinese American Museum), I came across the same images that I helped digitize when I was an intern! The experiences I had during my internships continue to give center to the current work I do in the arts/cultural heritage/museum fields. VC holds a special place in my heart – every year since 2011, my internship cohort meets up once a year to watch a film at the LAAPFF and catch up over dinner afterwards."
Anderson Le, VC Donor/LAAPFF Artistic Consultant
"I was first just an audience member in 2000, back when it was still called VC Film Fest. Years later, I was the Artistic Director, and am now a Programming Consultant. LAAPFF is like a big family reunion where I get to reunite with innovators, pioneers, and emerging beacons of API media culture. While everything is moving towards streaming and online viewing and distribution, VC continues to keep me connected with the API community by providing authentic connections IRL, and also continue the ideal tradition to see films as they are always meant to be seen, on the big screen!"
Christine Balance (UCI Professor) & Gary Gabisan (VC Staff/Filmmaker)
"I've been helping Gary with the Digital Histories program since 2015, and was recently awarded a UC Humanities Research Institute (UCHRI) grant to work with VC on the "Afterlives of Martial Law" project, digitizing VC's archival images from the various LA-based events against the Marcos regime during the 1980s. In a city dominated by Hollywood, VC represents an alternative: artistic quality with social and cultural integrity, along with a lifetime of friendships built around the making of art, film, and culture." - Christine Balance
"I'm currently the Media Instructor for the Digital Histories program and I love it. Teaching the seniors has helped me sharpen my own skills as a filmmaker, and made me realize the importance of telling stories, especially from voices that usually don't get heard." - Gary Gabisan
Phil Yu, VC Board Member/Angry Asian Man
"Before I moved to LA, I knew I wanted to get involved with VC in some way, whether as a volunteer, as a supporter, or as an audience member. In 2004, I was recruited to be on the festival shorts programming committee, and I now serve as a VC Board Member. These days, we talk a lot about diversity and inclusion in film and television, alongside AAPI representation and the lack thereof; but VC has been doing this work for decades, creating a community for AAPI filmmakers and their visions."
Janice Tanaka, Filmmaker
"I grew up in a Polish, Lithuanian neighborhood in Chicago, the only one of my kind. I love LA because my physical appearance does not stand out here. VC was the beginning of a personal awareness that there are many Asians who are making creative statements reflecting the individuality of who they are outside of stereotypes. In 1991, I hired a VC staffer, John Esaki, as my DP on my experimental documentary WHO'S GOING TO PAY FOR THESE DONUTS ANYWAY?"
Amy Lew, VC Member & Volunteer
"I have always been a supporter of Asian American creative productions, and love volunteering for the Los Angeles Asian Pacific Film Festival every year. VC puts on such a great event, and I just want to be there to support the organization, all of the creatives that make films, and our community."
Janet Chen, 2011-2015 VC Staff/Assistant Director at UCLA
"One of my undergrad film professors told me about VC because she thought it would be a good community for me to join. I didn't really get to know VC until I was hired as the Volunteer Coordinator for LAAPFF in 2012. Like a lot of the staff, I did many things with them over the years – I ran operations and development, I produced a few short films that screened at LAAPFF, and I even taught a digital filmmaking class to enthusiastic Asian American senior citizens in the Digital Histories program. Now that I work for the Center for EthnoCommunications at UCLA, which was started by one of VC's founders, I often recommend VC to our students! My relationship with VC has come full circle in many ways!"
Joel Quizon, Filmmaker/LAAPFF Programmer (2008-2013)
"Attending my first LAAPFF in 2000 gave me hope and inspired me to continue filmmaking. Since then, I have joined the programming committee for feature films, screened my films at LAAPFF, and made a short documentary with Maya Santos about the old Union church where VC is located. I've always felt a connection to VC, and it's our dedication to telling our stories, lifting our storytellers, and empowering our community through the art of film. VC is like family because no matter what path film and media arts take you, you will always have a home there because your history is there."
Yosilu Chen, Actress/LAAPFF Staff
"Through the years, I have gained an appreciation for the hard work that goes on behind the scenes for LAAPFF. VC is a very significant organization that promotes, presents, and archives Asian cultures around the world. People are so supportive of each other at VC that it has become a second family for me. This place is the perfect platform for me to help promote Asians in film and connect with people in the industry who have the same passions and dreams as me."
Alex Munoz, Filmmaker
"VC has provided both fiscal and moral support for my non-profit organization, FYI Films, dedicated to empowering incarcerated youth through media literacy and storytelling skills. Leslie Ito, former Executive Director of VC, helped me understand that filmmaking can be a tool for community empowerment, building, and transformation. VC has shown me that there are important and effective filmmaking communities outside of the mainstream Hollywood structure, motivating me to revolt against the backfire of tokenistic mainstream representations of minorities through showing authentic perspectives."
Javier Barboza, Filmmaker
"My co-director Maya Santos and I screened our virtual reality animated film, "Bronze Brass Jazz" at the Bronzeville, Little Tokyo installation for LAAPFF this year. Since working with VC, I have met very dedicated artists and individuals who spread awareness of the Asian American community in LA through their craft. VC is a strong voice for our communities, especially in Los Angeles, where Hollywood and the media often misrepresent minorities."
Lawrence Yoo, VC Volunteer
"I discovered VC in 2007 through Angry Asian Man's website. I volunteered for VC for a couple of years and I really enjoyed meeting new people, watching innovative movies, and helping a great cause. I gained a lot of insight meeting filmmakers, attending Q&As, and volunteering at the Bronzeville exhibit that brought people back to another time in Little Tokyo. It is great that VC holds LAAPFF every year because it proves that there is an audience for diversity in TV and movies."
Elaine Dolalas, Writer/Podcaster/2016 LAAPFF Programmer
"My relationship with VC has developed from fan, to programmer, to media sponsor with This Filipino American Life. Being able to be a part of the creative process has been much appreciated, as VC is a home for visual artists to share their work. Seeing how VC pushes for more representation while also creating space for our community highlights that while the mainstream community may be unaware of our talent, we are here continuously creating the work to showcase our stories."
Faroukh Virani, 2016 AWC Fellow/Filmmaker
"I've been attending VC events since my first LAAPFF experience when I moved here in 2010 and was looking for the best place in LA to see AAPI cinema. VC is a space to get inspired, find a voice, share work, exchange ideas, support each other, and keep Asian American cinema strong and growing (not unlike Flintstone Vitamins, a major part of my youth). I've grown a lot with VC's support through Armed With A Camera, and I hope to give back in some way."
Grace Lee & S. Leo Chiang, Filmmakers/Leaders of A-Doc
"It's been incredible to watch VC evolve over the past 20+ years since very few organizations have been able to roll with the times and remain independent, community-minded, and filmmaker-centric at once." - Grace Lee
"LAAPFF has shown every single one of my films since my very first student short... I could say that I owe my filmmaking career to VC! This org has become an indispensable partner in my efforts to tell diasporic Asian stories and support Asian American documentary community." - S. Leo Chiang
"As leaders of the new Asian American Documentary Network, we're counting on VC as a partner to help further nurture and advocate for Asian American filmmakers in the non-fiction space." - Grace and Leo
Lucy Burns, VC Donor/UCLA Professor
"I'm an admirer, supporter, and most of all, a beneficiary of VC. It is my hope that VC continues to sustain its rich programming that attends to inequalities in visual, filmic, and digital representation, as well as practices in filmmaking. VC is really here to change the ways in which we exist in the world. I just feel so incredibly fortunate to be living in the same city where VC is!"
Henry Chan, VC Board Member from 2005-2016
"I was first introduced to VC by Walt Louie in the early 1980s. When the Film Festival first started at UCLA, I enjoyed it tremendously and became an active member afterwards. In 2005, I joined the board with Leslie Ito's invitation. VC is an incubator for Asian American filmmakers. It is a place where they can share, learn, and grow together."
Fran Ito, Digital Histories Filmmaker
"I have been creating short stories through VC's Digital Histories senior film program since 2011. It is delightful that seven of my short films have been accepted into the Los Angeles Asian Pacific Film Festival. VC has been a wonderful learning experience for me that has helped me develop technical skills, given me exposure to many aspects of filmmaking, and provided opportunities for me to meet new friends with similar interests on my fun filmmaking journey."
Lindy Leong, LAAPFF Programmer
"I started working with VC when I was a graduate intern helping to inventory and process the VC media archives. I am currently a features film programmer for LAAPFF, and continue to volunteer my time to support and advocate for VC's work. While VC does provide a special community for AAPI art in Southern California, VC's media arts collective's roots and its politicized founding continue to extend beyond Los Angeles to exert its influence in Asian Pacific American communities locally and nationally."
Kennedy Kabasares, VC Staff from 1998-2011
"My first involvement with VC was volunteering for the 1997 Film Festival - it was small, but they had a lot of cool films in that one. After the festival I kept volunteering, and finally, Executive Director Linda Mabalot said she needed an admin assistant, so I got hired and stayed on until 2011. I'm like the cousin who lives next door (literally) - I'm always checking out what VC is up to, attending screenings, and dropping by the office unexpectedly. To me, VC is a community space for artists to come together in a relaxed atmosphere and share their stories, share ideas, and network."
Connie Oh, 2016 VC Intern, Program Coordinator at LEAP
"Interning at VC was my first experience really working at an Asian and Pacific Islander (API) community-based organization. They really fostered my passion to work and fight for my communities' voices. I'm grateful that VC empowered me to fight for my communities, and since my internship, I've continued to work for the API community in Little Tokyo and beyond."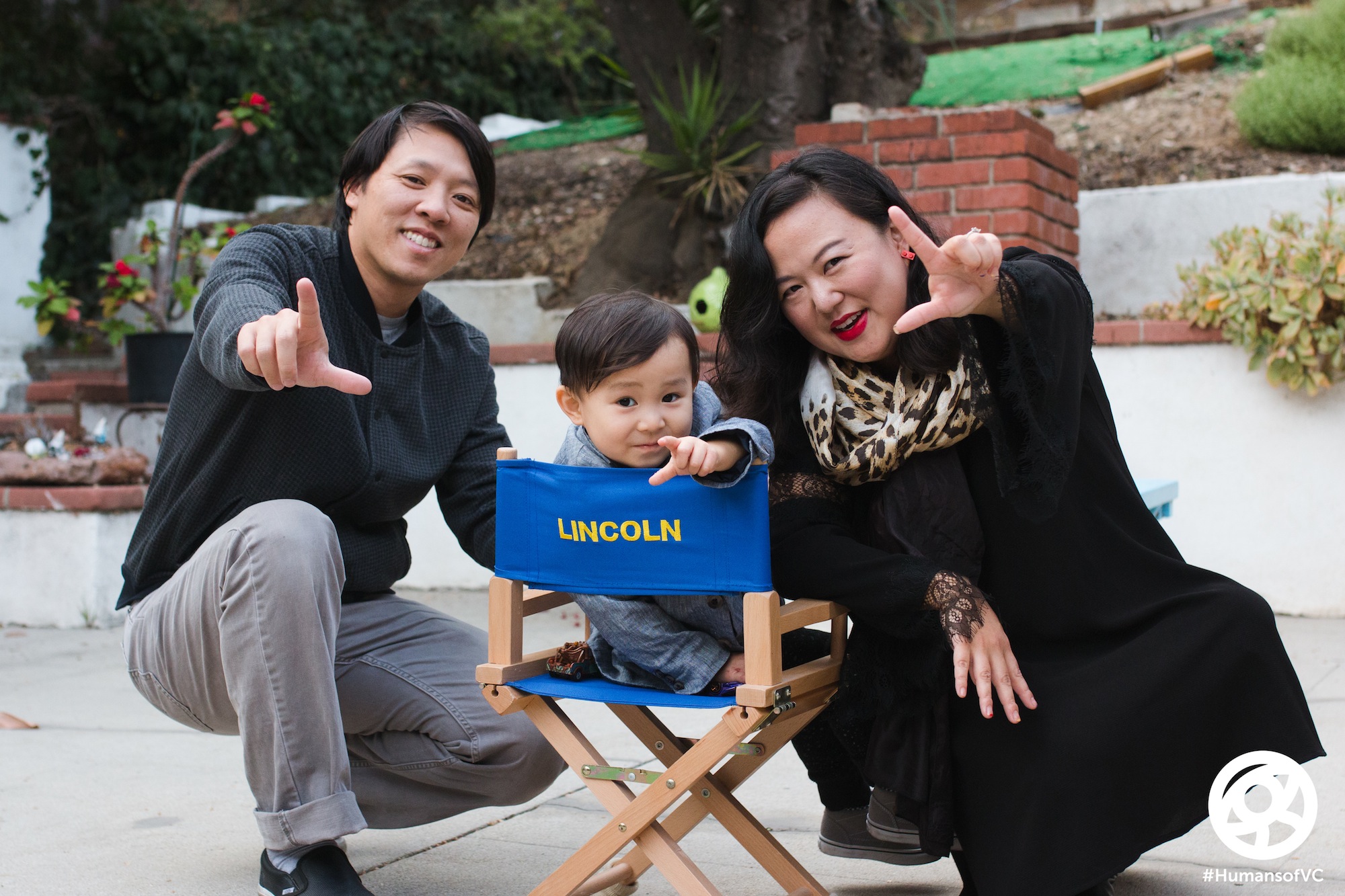 Jin Yoo-Kim & David Ngo, 2007 AWC Fellows/Filmmakers
"Being part of VC's Armed with a Camera Fellowship was important to me, not only because I met my husband, but also because it helped me re-route my life to pursue my filmmaking dreams through the community I had been yearning for. Now, I want to help VC in any way I can, whether it's by connecting other amazing people to VC, or just dropping by to say hi." – Jin Yoo-Kim
"I had no prior filmmaking experience, but after taking a screenwriting class offered at VC, I caught the bug. VC became an incubator for me to develop and discover my voice as a storyteller. I met my wife at VC, and we've been making films and babies ever since." –David Ngo